Overview & Background (back to top)
In July 2007 I took a mountain bike/camping trip through the Los Padres National Forest between Santa Barbara and Ojai, California, around the Matilija (Ma TIL ih ha) wilderness to the summit pass on Rte. 33 at Pine Mountain, and back. This was a 7-day trip, with the first 4 days completely self-contained camping at wilderness sites and a campground. A friend with a car then met me for a couple of days of more leisurely touring before I cycled home via the Coastal Bike Route.
Since someone's travelog of their trip through Denali National Park in Alaska helped me to plan and envisage a mountain bike trip there in 2005, I decided I'd share my experience in Los Padres on the web as well. (I couldn't find any descriptions on the web when planning this trip.)
I knew I'd have 7-10 days for a bike trip this summer. At first I thought I'd drive to Utah and explore the Zion Park and Canyonlands regions with a combination of car and mountain bike, possibly with a friend or one of my kids along. I own a Toyota Prius, so the first hurdle was to figure out how best to transport a couple of bikes on the car. I've made a separate Equipping a Toyota Prius with a hitch and bike rack page to share the results of that experience. And, if I find the time, I'll make an Equipment for Mountain Bike Wilderness Camping page, about the gear & provisions I used. (Such information isn't hard to find on the web, however.)
Ultimately driving to Utah seemed too ambitious for the short time, so I decided on a bike-only, start-from-home trip. At first I planned to go north around and through the San Rafael wilderness, but when a huge fire broke out at Zaca Lake on July 4, 2007, I had to change plans and go east towards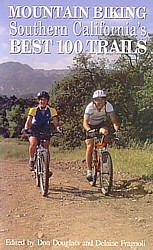 Ojai right away instead. (Zaca Fire: inciweb; 8/4/07 SB Independent report; 10/18/07 SB Independent report on the aftermath)
Books & Maps
I first purchased:
Don Douglass and Delaine Fragnoli (eds.), Mountain Biking: Southern California's Best 100 Trails (Bishop, CA: Fine Edge, 1993), 303 pages ($17 new/$4 used at amazon).
Rides 79-81 describe the terrain of my originally planned trip to the Zaca Lake area, while rides 68-74 cover parts of several of the routes in the Matilija/Ojai area that I ultimately rode.
(SB-Outdoors.org also describes some routes in this area--link in Links Section, below.)
The central headquarters of the Los Padres National Forest is just up the street from where I live (each of the various ranger districts has its own headquarters as well). I went there to purchase maps and get information. This is what I got: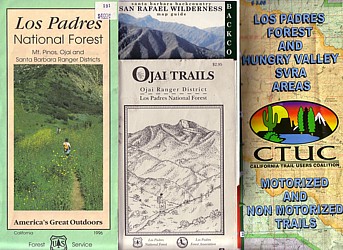 The Los Padres National Forest map (first map at right, and in the route maps below). I already had the 1996 edition of this one; the new edition (ca. 2006, $9) has better color contrast and coated paper; also a few wilderness campsites have since been closed. This very detailed map does not have topographical lines (and only few very few altitudes marked), but it shows the double-track dirt roads through the backcountry better than any other map. (It is difficult to do single-track trails on a bike loaded with gear. I advise against it.)
The San Rafael Wilderness map/backcountry guide, a very nice colored topographical map, the main disadvantage of which is that it only shows main trails, not all of the jeep roads marked on map 1. I wish I had had one of these for the Matilija wilderness, but I'm not sure one exists. (2005, $8)
An Ojai Trails guide/map ($3), which was useful for some hikes and keeping track of distances--see my notes on the enlarged version of the thumbnail at right. Note that it is NOT drawn to scale, and some of its distances are a bit off.
They give out a free "Trail Users Coalition" topographic map that shows all of the off-highway vehicle (OHV) routes. I was concerned to avoid those roads, some of which overlapped with the jeep routes I wanted to take. It has topo lines for the areas around Matilija, but they are too small to be of much use (they're in meters, which I didn't realize until after the trip: 3333' Cathedral Peak is given as "1016"). They misled me several times into underestimating the steepness and total altitude gain on various routes. By the way, "SVRA" stands for State Vehicular Recreation Areas.

here are some blow-ups from this OHV topo map of Gibraltar-Murietta-Matilija area:
Now for the route maps. First my original plan, cancelled by the 2007 Zaca fire.