Filip Kovačević Bio
---
Kovačević, Filip (b. 1975),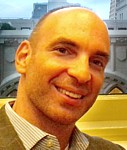 Montenegrin professor, author, human rights activist; since 2015 adjunct professor at the University of San Francisco..
Born in Montenegro, BA at CSU Hayward, Ph.D. in Political Science 2002 from the University of Missouri, Columbia
Created one of the first Herbert Marcuse webpages in 1997 (described and content archived on this site: marcuse.org/herbert/quotes/QuotKovacevic.htm (offline since 2001)
2007 monograph: Liberating Oedipus?: Psychoanalysis as Critical Theory (New York: Lexington Books, 2007), 249 pages. Esp. chap. 2 "The Liberation Thesis" (pp. 81-84) deals with Herbert. (google books version)
2012: published Markuze u Podgorici [Marcuse in Podgorica], an introductory book on Marcuse's ideas in Montenegrin language based on the lectures Kovacevic delivered at the Center for Civic Education in Podgorica in the spring of 2012.
2013: published "Marcuse in Yugoslavia," in: Radical Philosophy Review,16:1(2013), 205-222.

Abstract: During the 1960s, Herbert Marcuse was an invited lecturer at the Korčula Summer School organized by the group of Yugoslav Marxist philosophers known as the Praxis Group. This article explores the way Marcuse and his ideas were received in the Yugoslav intellectual milieu. It is based on the close reading of the forewords and afterwords written by Yugoslav philosophers in the translations of Marcuse's books. It also gives an account of Marcuse's activities during the proceedings of the Korčula Summer School.
Originally presented at the 2011 Int'l Herbert Marcuse Society Conference in Philadelphia.