My Son's History Essay (back to top)
Aaron Marcuse-Kubitza
Mr. Vranish Period 5
AP U.S. History
May 30, 2005
Nuclear Power: From Profitable to Dangerous
The 1960s and 70s were a period of change and protest against established ideas, in more ways than one: the counterculture abandoned traditional morals, the anti-war protests made the Vietnam War the most unpopular war in U.S. history, and most importantly, the new environmental movement began to reform the American lifestyle. One lifestyle change was energy consumption: while nuclear power had previously been considered "the power source of the future" (Hampton: A Century of Town and Beach), it was now the subject of much debate. Several demonstrations were staged to protest the construction of nuclear power plants around the world, and accidents, some with tragic consequences, caused public opinion to turn against nuclear power. In an interview with my father, Harold Marcuse, he describes his experience as a protester in the anti-nuclear movement and explains the larger context of his story.
Mr. Marcuse's story begins at Wesleyan University, where "Environmentalism first became a major issue…with protests against nuclear power plants." (Roger Smith). In August of 1976, the Public Service Company of New Hampshire (PSNH) began construction of an 860,000-kilowatt nuclear power plant at Seabrook, near Hampton and Hampton Beach, New Hampshire. While my father was a student at Wesleyan, an organization known as the Clamshell Alliance planned a protest against the power plant on May Day, 1977. My father joined several busloads of students who went to Seabrook and joined a group of 2000 people in a massive and meticulously organized act of civil disobedience. The protesters arrived Friday and then spent Saturday preparing an elaborate camp, setting up tents and even digging latrines. Each person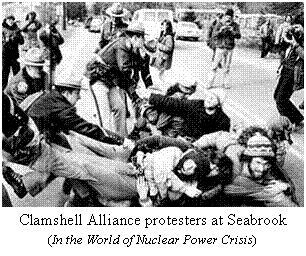 was part of an "affinity group" of about a dozen people, each of whom was assigned a specific task, such as cooking or taking care of medical needs. Each affinity group had a decision-making representative in a leadership group. Thus, the demonstrators could react quickly and as a unit to any challenge they might face. Then, on Sunday, after 24 hours occupying the site, state police came and began to arrest people. Altogether, 1414 protesters were arrested, and since there was not sufficient space to lock up so many people, they were driven to National Guard armories around the state, which were converted into makeshift jails. After waiting at the Somerset armory for about 10 days, my father was taken to one of the group trials that was held, and was eventually released. The Clamshell Alliance had vans drive protesters back to Seabrook after they were released, and my father then took a bus back to Wesleyan.

Mr. Marcuse says, however, that this protest was not an isolated incident. The next year, there was a demonstration of 10,000 at Seabrook, and "The protests turned violent in 1979, when police used attack dogs, tear gas, and riot sticks to turn away some 2,000 demonstrators." (Hampton: A Century of Town and Beach). In February 1975, in the largest anti-nuclear protest in history, 20,000 people had protested the construction of a nuclear power plant in Whyl, Germany. The 1979 movie, The China Syndrome, poses the possibility of a nuclear power plant accident caused by human error and profit-driven negligence, because as one reviewer put it, "nuclear power can NEVER be made safe because people can NEVER be perfect." (IMDb user comments for The China Syndrome). Indeed, just twelve days after the movie was released, the fateful accident occurred on the Three Mile Island plant in Harrisburg, Pennsylvania, and while the meltdown of the nuclear core did not cover an " 'area the size of Pennsylvania' " with radiation, it did warn the public of the dangers of nuclear power (IMDb user comments for The China Syndrome) . In the Windscale fire in England in 1957 and then the tragic explosion at Chernobyl in 1986, the destructive potential of nuclear power became evident, both in immediate radiation deaths and in long-term soil, water, and food irradiation as well as increased cancer risk. Ultimately, this was the turning point in nuclear power plant construction.
According to Mr. Marcuse, nuclear power simply is not worth the cost and energy required to use it. Uranium must be mined and refined, which alone takes more energy than is produced by the power plant, and then the waste must be properly disposed of. In addition, plutonium is very poisonous and has a half-life of 25,000 years, causing permanent biological damage to the environment surrounding the chosen storage location. Finally, nuclear energy is the most centralized form of power, giving power companies complete control of prices and supplies. Fossil fuels seem to provide an alternative, but they also pollute the environment, and supplies are limited. My father suggests using a renewable energy source, such as solar power or wind energy, and I have to agree, for if we are to continue consuming power for years to come, we must find a safe, reliable, and lasting resource.

BIBLIOGRAPHY