Peter Marcuse
---
Peter passed away quietly at home at Vista del Monte in Santa Barbara on March 4, 2022, attended by his wife Frances and sons Andrew and Harold.
Obituaries:
We have gathered some private memories and photos on a
protected site
: Please contact
Andrew
or
Harold
for the password and with contributions.
Professor of Urban Planning, Columbia University
---
News Biography CV Texts Recent Publications
---
News
8/16/16: In 1964 Peter spent two weeks in Jackson, Mississippi as a member of a project giving legal aid in civil rights cases. He wrote a series of five articles for his hometown newspaper, the Waterbury American, describing his experiences. You can read the articles in one 12-page pdf, or individually, as listed below.
6/6/16: Peter's 2016 updated CV added: 2-page short CV; 24-page full version with all publications (also as page linked in navbar above)
9/10/14: June 5, 2014 interview in the Vienna Wiener Zeitung added: "'Ich habe da viel Gutes gesehen': Stadtplaner Peter Marcuse über den sozialen Wohnbau und die "Gefährlichkeit" von Wolkenkratzern in der Stadt" (with Michael Palfinger)
7/22/2014: added 2009 book & updated links to Herbert Marcuse Papers at Univ. of Frankfurt
5/24/2012: Peter was interviewed by the German newspaper Jungle World. The title of the published article translates as 'You can't wait until the revolution happens when you need a place to sleep right now.' About: "das Konzept »Recht auf Stadt«, den Umgang der »Occupy«-Bewegung mit Obdachlosen und den langen Weg zum Sozialismus."
7/26/11: Since Nov. 2010 Peter has been writing a blog--check it out!
Also two new items posted here (both 20+ page pdfs, updated to 2011):
8/18/10: I just found this Nov. 27, 2007 clip of Peter speaking at Columbia on youtube: "Empty Buildings, Crowded Shelters" (Aug. 2010: 1214 views; June 2016: 2103 views)
10/19/09: Our family friend Anita Segalman painted a portrait of Peter years ago (1970s?). She has made it available on her new website.
11/25/08: Peter's CV (looks like 2003 version) is available at the University of Darmstadt's urban-studies.de site (2016: 2011 web archive version).
11/3/08: "The Right to the City: Prospects for Critical Urban Theory and Practice" [2016: link dead; not in web archive] is a conference being held in Berlin on Nov. 6-8 in honor of Peter's 80th birthday. The link above gives the full program; see also the invitation to the Nov. 6 keynote: pdf, jpg p. 1, p.2.
11/4/07: Oct. 18, 2007 German news report and interview with Peter in Berlin: Rundfunk Berlin-Brandenburg description page with link; direct link to .smi feed. Here's the blurb: "New-York-Berlin-Konferenz
Im Rahmen eines Kongresses im Haus der Kulturen der Welt werden seit Donnerstag New York und Berlin miteinander verglichen. Es geht unter anderem um stadtplanerische und soziologische Aspekte. An diesem Abend ist die kulturelle Vielfalt in den Städten ist am Donnerstag das Thema von Stadtplanungsprofessor Peter Marcuse."
For more information on his conference presentation about ethnic and multicultural diversity in the cities, "Die Dynamiken der Stadt - Fragmentierungen und Konzentrationen New York - Berlin: Kulturelle Vielfalt in urbanen Räumen," see this summary on the Haus der Kulturen der Welt website.
---
Biography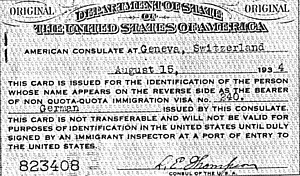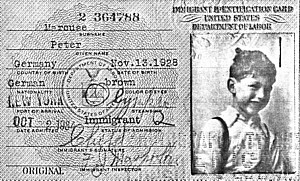 Peter's immigration card, stamped in Geneva, August 15, 1934, and in New York, Oct. 2, 1934
Peter Marcuse was born in 1928 in Berlin, the son of book sales clerk Herbert Marcuse and mathematician Sophie Wertheim. They soon moved to Freiburg, where Herbert began to write his habilitation (thesis to become a professor) with Martin Heidegger. In 1933, in order to escape the Nazi persecution, they joined the Frankfurt Institut für Sozialforschung and emigrated with it first to Geneva, then via Paris, to New York. When Herbert began working for the OSS (forerunner of the CIA) in Washington, DC, the family moved there, but Peter also lived with family friends in Santa Monica, California.
He attended Harvard University, where he received his BA in 1948, with a major in History and Literature of the 19th Century. In 1949 he married Frances Bessler (whom he met in the home of Franz and Inge Neumann, where she worked as an au pair while studying at NYU).
In 1952 he received his JD from Yale Law School and began practicing law in New Haven and Waterbury, Connecticut. Peter and Frances had 3 children, in 1953, 1957 and 1965.
He received an MA from Columbia University in 1963, and a Master of Urban Studies from the Yale School of Architecture in 1968. He received his PhD from the UC Berkeley Department of City and Regional Planning in 1972.
From 1972-1975 he was a Professor of Urban Planning at UCLA, and since 1975 at Columbia University. Since 2003 he is semi-retired, with a reduced teaching load.
---
CVs
---
Texts
---
Publications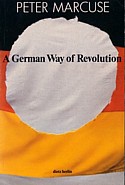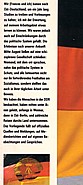 A German Way of Revolution: DDR-Tagebuch eines Amerikaners
(1990), 260 pages
the cover shows the East Germany insignia cut out of the black-red-gold German flag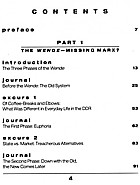 Missing Marx: A Personal and Political Journal of a Year in East Germany, 1989-1990
(Monthly Review, 1991), 302 pages
I especially like the contemporary political jokes he's interspersed on pp.10, 40, 45, 49, 68, 69, 71, 99, 128, 131, 156, 184, 190, 212, 214, 224, 264, 272, 283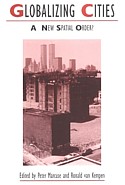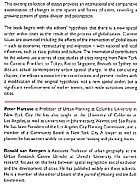 Globalizing Cities: A New Spatial Order?
(Studies in Urban and Social Change) by Peter Marcuse, Ronald Van Kempen (Blackwell, 2000), 319 pages
note the twin towers on the cover...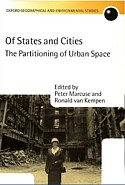 Of States and Cities: The Partitioning of Urban Space (Oxford Geographical and Environmental Studies), 291 pages
by Peter Marcuse, Ronald Van Kempen (Oxford, 2002)
teaser: "A spectre is haunting cities around the world: the spectre of globalization."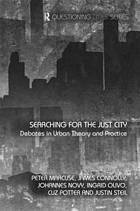 Searching for the Just City: Debates in Urban Theory and Practice (Routledge, 2009), 291 pages
ed & contributions by Peter Marcuse
If today's cities are full of injustices, what would a 'Just City' look like? Contributors to this volume, including David Harvey, Peter Marcuse and Susan Fainstein, define the concept, examining it from multiple angles, question it and suggest alternatives.
From justice planning to commons planning / by Peter Marcuse
Postscript: Beyond the just city to the right to the city / by Peter.
---
Permission to Publish Herbert Marcuse's Works has moved a separate Permissions Page